Squaring rear axle / birdcage timing /double heim adjustment
REAR AXLE SQUARING – BIRDCAGE TIMING – DOUBLE HEIM ADJUSTMENT
SINCE I HAVE A BARE CHASSIS, I DECIDED TO MOCK A REAR AXLE AND THE MOUNTS TO MAKE THINGS EASIER FOR RACERS THAT ARE NEW TO THIS TYPE OF SUSPENSION.
I HAVE PICKED 4 LINK FOR THIS DEMO, MAINLY BECAUSE IT'S A LITTLE MORE COMPLICATED THAN WISHBONES. BUT YOU USE THE SAME PROCEDURES TO BOTH SUSPENSIONS.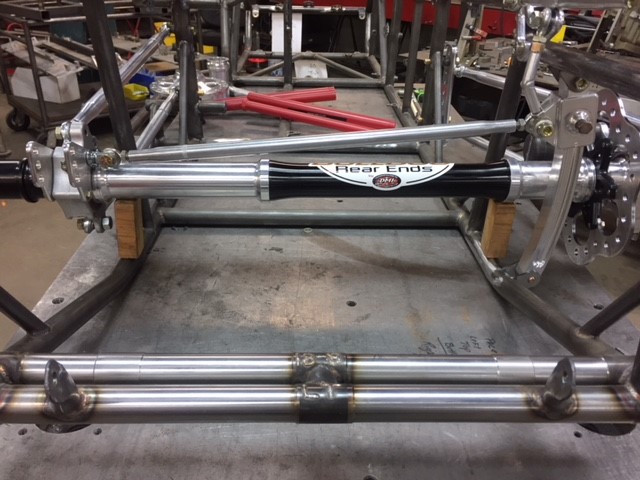 FIRST YOU MUST ASSEMBLE THE COMPLETE REAR AXLE AND PLACE INTO CHASSIS, JUST EYEBALL EVERYTHING
NOW CUT YOU SOME RIDE HEIGHT BLOCKS – 3 ½ TALL BLOCKS WILL GET YOU CLOSE. AS YOU SEE IN THE PICTURE ABOVE I HAVE USED SOME 2 X 4 S TO DO THIS WITH.
PLACE BETWEEN THE REAR AXEL AND MAIN RAIL, THIS SIMULATES THE HEIGHT OF THE AXLE WHEN THE CAR IS ON THE GROUND AND THE DRIVER IS IN IT.
SETTING BIRCAGE ANGLE –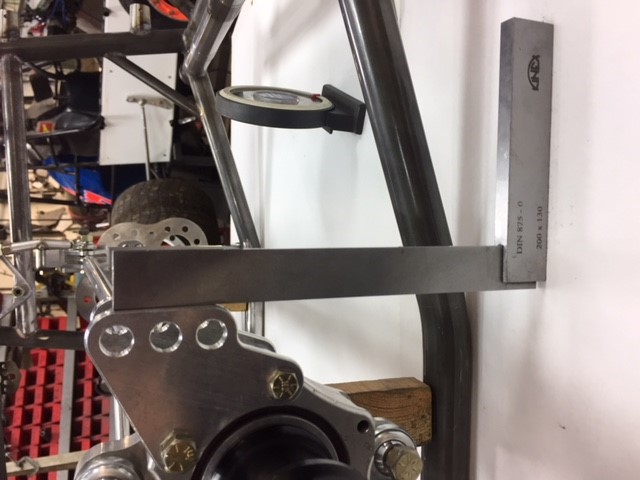 IF YOU HAVE SOMETHING THAT'S TRUE TO THE MOUNTING BOLTS ON THE BIRDCAGE, LIKE OUR ADJUSTABLE DOUBLE HEIM PLATES. YOU CAN USE A SQUARE. IF YOU ARE ON A FLAT SURFACE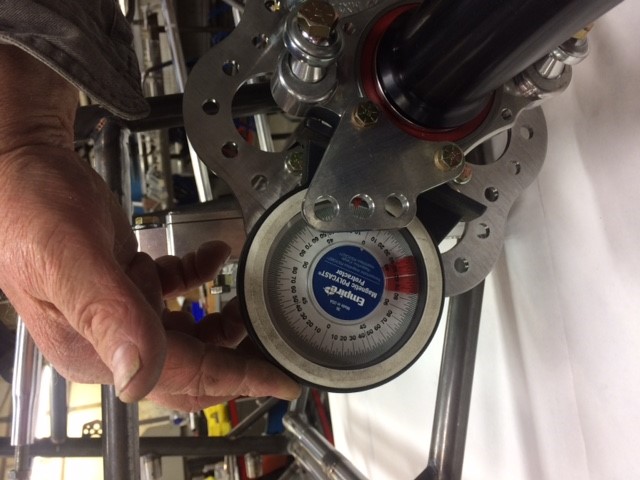 YOU CAN USE A PROTRACTOR LEVEL – OUR PAN HARD BIRCAGE IS MADE ON A HEX DESIGN, SO IT WILL CHECK 60 DEGREES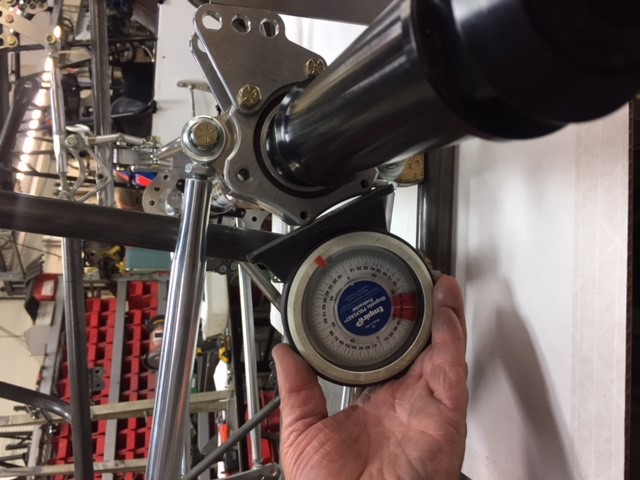 VIEW WITH ADJUSTABLE DOUBLE HEIM PLATES REMOVED
YOU MAY ALSO USE A LEVEL IF THE TOP OF BIRCAGE IS ACCESSABLE
SQUARING OF THE REAR AXEL –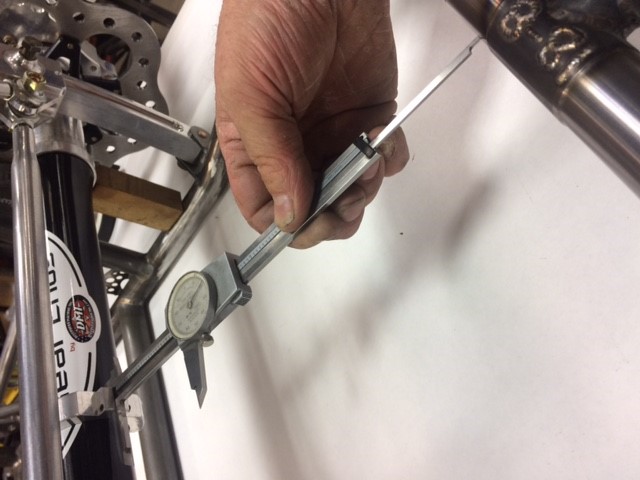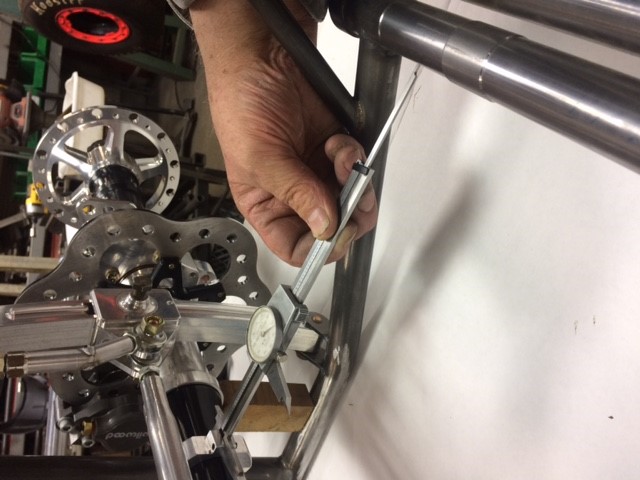 I ALWAYS USE CALIPHERS TO SQUARE THE REAR AXLE, I WANT IT AS STRAIGHT IN THE CAR AS I CAN GET IT.
YOU CAN SEE ON THE END OF THE CALIPHERS IS OUR REAR END SQUARING TOOL THAT MAKES IT EASIER AND MORE ACCURATE.
ALWAYS MEASURE ON THE SAME SURFACES, DON'T GO FROM REAR AXEL TO A SPACER
I TRY TO GET WITHIN .005
DOUBLE HEIM LOCATION –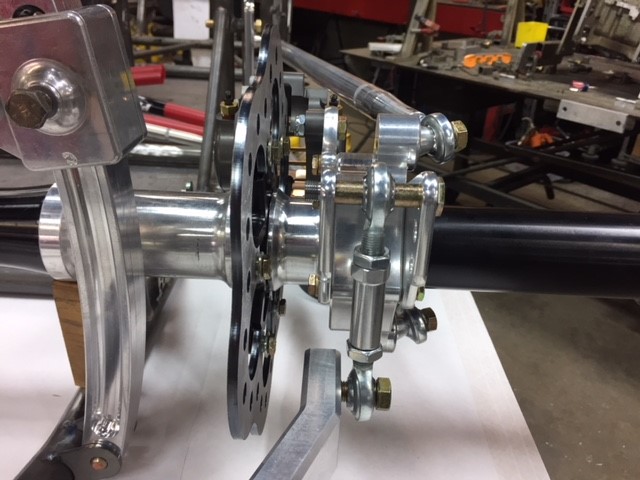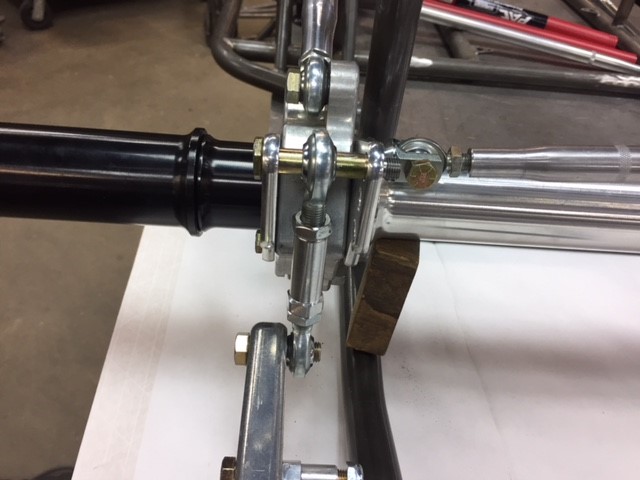 NOW YOU ARE READY TO PUT THE BARS AND ARMS ON – MAKE SURE THE DOUBLE HEIM LINKAGE IS LOCATED IN THE CENTER OF THE DOUBLE PLATES ON THE BIRDCAGE. GETTING THEM IN A BIND IS NOT GOOD.
TOP PICTURE IS RIGHT SIDE – BOTTOM BICTURE IS LEFT SIDE
ARM ANGLE – THE ADVANTAGE TO RUNNING THE ADJUSTABLE DOUBLE HEIM PLATES IS YOU CAN ADJUST THE ARM ANGLE WITH THE HOLE LOCATION AND THE LENGTH OF THE DOUBLE HEIM.
THEY ACTUALLY THINK YOU CHANGED THE TUBE HEIGHTS WHEN YOU ADJUST THESE AND THEY DO NOT HAVE TO BE ADJUSTED THE SAME. WHICH WORKS GREAT NON WING
THERE'S ACTUALLY 3 DIFFERENT LENGTHS OF THE DOUBLE HEIM LENGTHS – ALLOWING A BIG RANGE OF ARM ANGLE ADJUSTMENTS.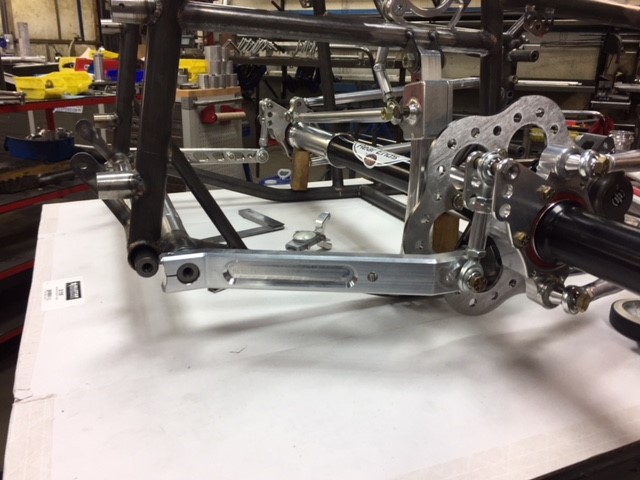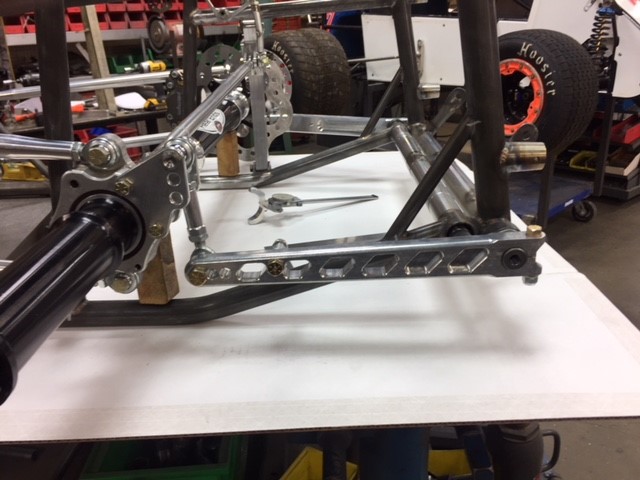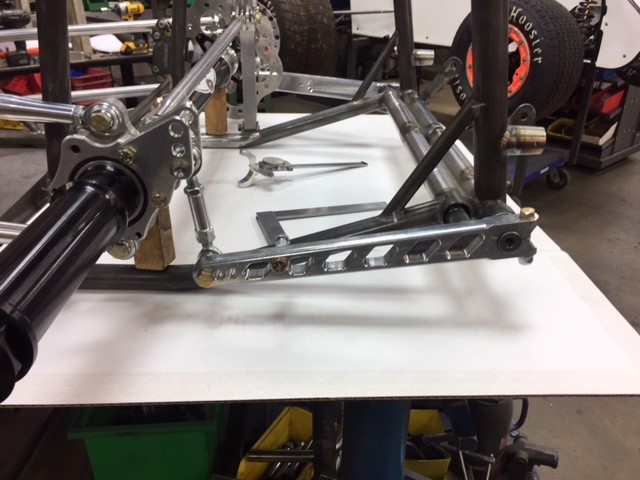 JUST FOR AN EXAMPLE – I HAVE DROPPED THE DOUBLE HEIM FROM TOP HOLE TO BOTTOM SO YOU COULD SEE THE ARM ANGLE CHANGE
THERE'S ACTUALLY 3 DIFFERENT LENGTHS OF THE DOUBLE HEIM LENGTHS – ALLOWING A BIG RANGE OF ARM ANGLE ADJUSTMENTS.
IF YOU CHANGE HOLE THE DOUBLE HEIM LINK IS MOUNTED IN ON BIRDCAGE YPU WILL HAVE TO REBLOCK THE SIDE YOU CHANGE.
EX: LONG LINK IN TOP HOLE – TO MIDDLE HOLE
IT'S GOING TO RAISE OR LOWER THE CORNER YOU MOVE
NOW THE GOOD THING ABOUT THE 3 DIFFERENT DOUBLE HEIM LINKS AND THE 3 ADJUTER HOLE IN THE DOUBLE HEIM PLATE IS
YOU CAN CHANGE FROM THE LONG LINK IN THE TOP TO THE MED LINK IN THE MIDDLE HOLE AND IT DOES NOT CHANGE YOUR SET UP OR RIDE HEIGHTS
THE ADVANTAGE TO THIS IS BEING ABLE RUN DIFFERENT LINKS ON EITHER SIDE